After The Gold Rush | Reprise 1970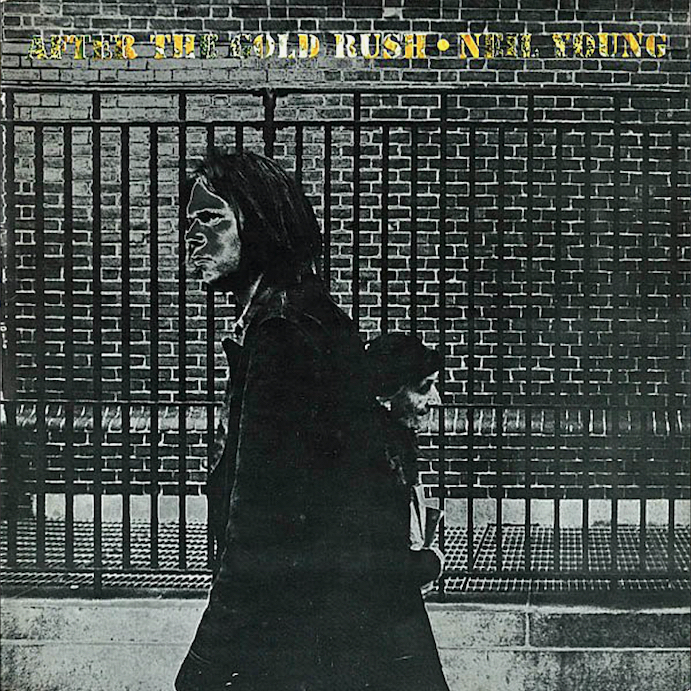 Elokuviin on sävelletty musiikkia melkein yhtä kauan kuin niitä on kuvattu. Harvoin on käynyt niin, että elokuvaprojekti olisi jäänyt kesken, mutta siihen tehty musiikki olisi jäänyt elämään. Neil Youngin After The Gold Rush on tällainen tapaus.
Youngin (s. 1945) kolmas sooloalbumi sai alkunsa näyttelijä Dean Stockwellin ja Herb Bermannin yhteisestä käsikirjoituksesta. Stockwell kertoi Classic Rock -lehdelle projektin lähteneen liikkeelle, kun näyttelijä Dennis Hopper yllytti häntä laatimaan elokuvakäsikirjoituksen, jonka tämä sitten toimittaisi tuotantoon.
After The Gold Rush
"Palasin kotiin Topanga Canyoniin ja kirjoitin After The Gold Rushin. Neil asui siellä myös, ja jotenkin käsikirjoitus päätyi hänelle. Neil oli kärsinyt viikkoja tyhjän paperin kammosta, ja levy-yhtiö hätyytteli häntä. Luettuaan käsikirjoituksen hän kirjoitti After The Gold Rush -albumin kolmessa viikossa."
Waging Heavy Peace -kirjassaan Young muistaa asian toisin. Hän ei kärsinyt tyhjän paperin kammosta, ja häneltä pyydettiin elokuvaan musiikkia: "Kirjoitin siihen aikaan paljon biisejä, ja jotkut niistä tuntuivat sopivan tarinaan täysin."
Only Love Can Break Your Heart
Elokuvaprojekti jäätyi ennen kuin ehti kunnolla alkaakaan, koska studiot eivät kiinnostuneet taiteellisesta dystopiatarinasta, mutta musiikki valmistui. Young äänitti After The Gold Rushin enimmäkseen kotistudiossaan keväällä 1970. Kuten jo vuoden 1969 Everybody Knows This Is Nowherella, Young käytti bändinään Crazy Horsea. Uusin tulokas oli vasta 18-vuotias Nils Lofgren, jonka Young oli kutsunut luokseen tavattuaan tämän keikalla. Lofgren tuli tunnetuksi sooloartistina sekä Crazy Horsen ja Bruce Springsteenin E Street Bandin jäsenenä.
Neil Youngin elämäntyö on jättänyt maailmaan monenlaisia jälkiä, mutta kaikkein eniten kauneutta. After The Gold Rush on kaunista musiikkia kaikissa valoissaan ja varjoissaan, niin pianon ja laulun varaan sovitetuissa nimibiisissä ja 'Brirdsissa' kuin 'Only Love Can Break Your Heartin' ja Don Gibsonilta lainatussa valssaavassa countryfolkissa 'Oh, Lonesome Me'. Se on kaunis 'Don't Let It Bring You Downin' kohtalokkuudessa ja jopa Etelävaltioiden rasismista kirjoitetussa 'Southern Manissa', joka on levyn raskain ja vaikuttavin kappale. (Lynyrd Skynyrd levytti 'Sweet Home Alabaman' reaktioksi 'Southern Maniin'. Skynyrdin kappale on toki klassikko, mutta Youngin avoimen haasteen vastineeksi heppoinen.)
Southern Man
Ilmestyessään syyskuussa 1970 After The Gold Rush sai kaksijakoisen vastaanoton kriitikoilta. Esimerkiksi Rolling Stonen Langdon Winner piti levyä tylsänä. Nykyisin sitä kehutaan klassikoksi ja mestariteokseksi kuorossa, jossa eivät soraäänet soi. Yleisö piti levystä heti kättelyssä: After The Gold Rush oli Neil Youngin ensimmäinen albumi, joka nousi Yhdysvalloissa albumilistan kärkikymmenikköön. Seuraava albumi, Harvest, oli klassikko ja listaykkönen.
Stockwellin ja Bermannin käsikirjoitus katosi jo kauan sitten.
Ari Väntänen | www.arivantanen.com
Neil Young – Reprise Records | Facebook
Neil Young Archives
After The Gold Rush
Neil Young – kitara, piano, huuliharppu, laulu
Danny Whitten – kitara, laulu
Nils Lofgren – kitara, piano, laulu
Jack Nitzsche – piano
Billy Talbot – bassokitara
Greg Reeves – bassokitara
Ralph Molina – rummut, laulu
Stephen Stills – laulu
Bill Peterson – flyygelitorvi
Tuottajat: Neil Young, David Briggs & Kendall Pacios
Saatat pitää myös näistä Levyhyllyistä
Anna Järvisen muotokieli lumoaa – Lila/Liila
Beck: Sea Change – suuren muutoksen soundtrack
Björk: Debut – oudosti välkkyvä tähti
Parallel Lines oli Blondien läpimurto
Bob Dylan: Highway 61 Revisited – tie folkin tuolle puolen
Bob Dylan: Self Portrait – täydellisen keskeneräinen omakuva
Bruce Springsteen: The Rising – ihmisen uskosta huomiseen
Dire Straits: s/t – menestystarinan alkusanat
Elton John – pianistin tie ihmemaahan
Green River: Dry As A Bone – grungen juurilla
Hector: Nostalgia – romantiikkaa tekniikan sukupolvelle
John Lennon: Imagine – tunnustuksia ja idealismia
Joni Mitchell: Song To A Seagull – kun aitous välittyy
Joose Keskitalo: En lähde surussa – elämän kauneus kuoleman varjossa
Leonard Cohen: You Want It Darker – liekki palaa pimeässä
Leonard Cohen: Thanks For The Dance – lempeä epilogi
Lou Reed & Metallica: Lulu – nainen miesten maailmassa
Marianne Faithfull: Broken English – uuden ajanlaskun alku

Mikko Kuustonen: Aurora – olemassaolon blues
Nick Cave & The Bad Seeds: Skeleton Tree – pimeä tie kohti valoa
Nick Drake – lauluja suljettujen ovien takaa
Patti Smith: Horses – runon ja rockin liitto
Paul Simon: Graceland – silta yli synkän virran
Pearl Jam: Ten – grungen elävä klassikko
Pekka Streng – kohti unen maata
PJ Harvey: To Bring You My Love – himosta ja kaipauksesta
R.E.M. Automatic For The People – huipulla on hiljaista
Robert Plant: Carry Fire – näin luodaan vanhasta uutta
Taylor Swift etsii jatkuvasti uutta
The Doors: The Doors – vallankumouksen lähtölaukaus
The Jimi Hendrix Experience: Are You Experienced – tanssimusiikkia vapaudenjanoisille
The National: High Violet – kaunis ja yksinäinen
The Replacements: Let It Be – bändi lunastaa taivaspaikkansa
The Rolling Stones: Their Satanic Majesties Request – pahojen poikien kosminen joulu
Tom Petty And The Heartbreakers: Damn The Torpedoes – suuren lauluntekijän muistolle
Tom Waits: Bone Machine – läpimurto tuntemattomaan
Tracy Chapman – altavastaajien ääni
Neil Young
Finna.fi
1960-luku
Neil Young | Reprise 1968
Everybody Knows This Is Nowhere Neil Young with Crazy Horse | Reprise 1969
1970-luku
After The Gold Rush | Reprise 1970
Harvest Neil Young With The Stray Gators / The London Symphony Orchestra | Reprise 1972
Journey Through The Past • soundtrack | Reprise 1972
Time Fades Away | Reprise 1973
On The Beach | Reprise 1974
Tonight's The Night | Reprise 1975
Zuma Neil Young with Crazy Horse | Reprise 1975
Long May You Run The Stills-Young Band | Reprise 1975
American Stars N' Bars | Reprise/Warner Bros. 1977
Comes A Time | Reprise 1978
Rust Never Sleeps Neil Young & Crazy Horse | Reprise 1979
Live Rust • live Neil Young & Crazy Horse | Reprise 1979
1980-luku
Hawks & Doves | Reprise/Warner Bros. 1980
Re·ac·tor Neil Young & Crazy Horse | Reprise 1981
Trans | Geffen 1982
Everybody's Rockin' Neil Young & The Shocking Pinks | Geffen 1983
Old Ways | Geffen 1985
Landing On Water | Geffen 1986
Life Neil Young & Crazy Horse | Geffen 1987
This Note's For You Neil Young & The Bluenotes | Reprise 1988
Freedom | Reprise 1989
1990-luku
Ragged Glory Neil Young & Crazy Horse | Reprise 1990
Arc-Weld • 3CD • live Neil Young & Crazy Horse | Reprise 1991
Weld • live Neil Young & Crazy Horse | Reprise 1991
Arc • live Neil Young & Crazy Horse | Reprise 1991
Harvest Moon | Reprise 1992
Unplugged • live | Reprise 1993
Sleeps With Angels Neil Young & Crazy Horse | Warner Bros. 1994
Mirror Ball Neil Young & Pearl Jam | Reprise/Epic 1995
Dead Man • soundtrack | Vapor 1996
Broken Arrow Neil Young with Crazy Horse | Reprise 1996
Year Of The Horse • 2CD • live Neil Young & Crazy Horse | Reprise 1997
2000–2009
2010-luku
2020-luku
Boksit ja kokoelmalevyt
Neil Young • Buffalo Springfield • CSNY • CSN
Finna.fi
So Far Crosby, Stills, Nash & Young | Atlantic 1974
Decade • 3LP • 2CD | Warner Bros. 1977
Replay Crosby, Stills & Nash | Atlantic 1980
CSN Crosby, Stills & Nash • 4CD | Atlantic 1991
Lucky Thirteen | Geffen 1993
Box Set Buffalo Springfield • 4CD | Rhino/Atco 2001 & 2013
Official Release Series Discs 1–4 • 4CD/HDCD | Reprise 2009
Neil Young Archives Vol. 1 (1963–1972) • 8CD • 10DVD | Reprise 2009
Neil Young Archives Vol. II (1972–1976) • 10CD | Reprise 2021
Buffalo Springfield
[Neil Young • Stephen Stills • Richie Furay • Bruce Palmer • Dewey Martin]
Finna.fi
Buffalo Springfield | Atco 1966
Buffalo Springfield Again | Atco 1967
Last Time Around | Atco 1968
CSNY • CSN
[David Crosby • Stephen Stills • Graham Nash • Neil Young]
Finna.fi
Crosby, Stills & Nash | Atlantic 1969
Déjà Vu Crosby, Stills, Nash & Young | Atlantic 1970
4 Way Street • live • 2LP Crosby, Stills, Nash & Young | Atlantic 1971
CSN | Atlantic 1977
Daylight Again | Atlantic 1982
Allies • live | Atlantic 1983
American Dream Crosby, Stills, Nash & Young | Atlantic 1988
Live It Up | Atlantic 1990
After The Storm | Atlantic 1994
Looking Forward Crosby, Stills, Nash & Young | Reprise Records 1999
Lue lisää Neil Youngista
Finna.fi
Muistelmat Neil Young & kääntäjät Juha Arola & Juha Ahokas, 456 sivua | Like 2012
Special Deluxe – muistelmia elämästä ja autoista Neil Young & kääntäjä Ari Väntänen, 400 sivua | Like 2015
Neil Young – Long May You Run – henkilökuva Daniel Durchholz & Gary Graff & kääntäjä Anna Maija Luomi, 223 sivua | Minerva 2012
Neil Young – musiikillinen elämäkerta Jouko Ollila, 136 sivua | Pop-lehti 2002
Neil Young – rock-musiikin cowboy Jouko Ollila, 181 sivua | Pop-lehti 2004
Läs mera om Neil Young
Finna.fi
Bilar & sånt Neil Young & översättare Patrik Hammarsten, 370 sidor | Norstedt 2015
Fredsförklaring Neil Young & översättare Patrik Hammarsten, 435 sidor | Norstedts 2012 • Pocketförlaget 2013
Read more about Neil Young
Finna.fi
Special Deluxe – Memoir Of Life & Cars Neil Young, 383 pages | Penguin Books 2015
Neil Young – Heart Of Gold Harvey Kubernik, 223 pages | Omnibus Press 2015
Waging Heavy Peace – A Hippie Dream Neil Young, 502 pages | Viking 2012 • Penguin Books 2013
Young Neil – The Sugar Mountain Years Sharry Wilson, 469 pages | ECW 2014
Neil Young – A Life In Pictures Colin Irwin, 159 pages | Carlton 2012
Neil Young – The Definitive History Mike Evans, 281 pages | Sterling 2012
Journey Through The Past – The Stories Behind The Classic Songs Of Neil Young Nigel Williamson, 159 pages | Carlton 2002
Neil Young – Stories Behind The Songs 1966–1992 Nigel Williamson, 191 pages | Carlton 2010
Read more about Pono Music and Neil Young
Finna.fi
To Feel The Music – A Songwriter's Mission To Save High-Quality Audio Neil Young & Phil Baker, 259 pages | BenBella Books 2019