Lost Themes III • Alive After Death | Sacred Bones 2021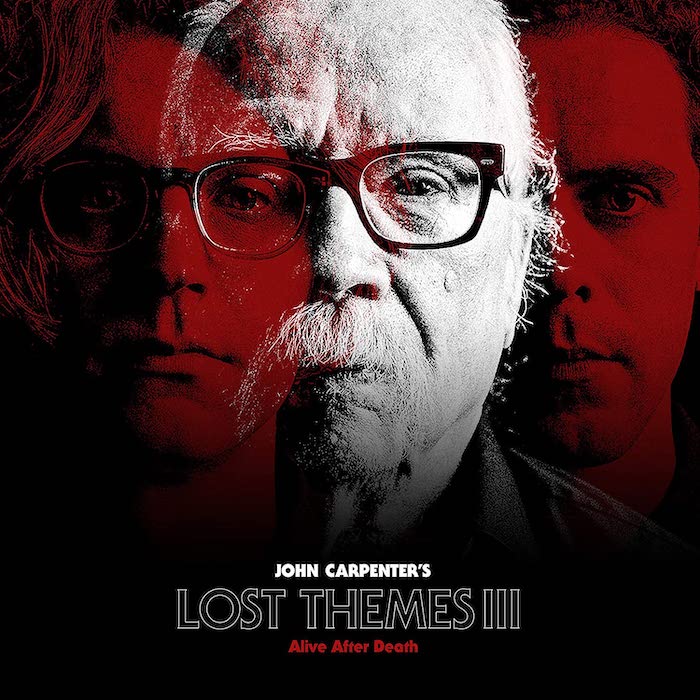 John Carpenter alkoi aikoinaan säveltää elokuviensa musiikin itse, koska hänellä ei ollut varaa palkata ketään. Elokuvaohjaaja valitsi työkalukseen syntetisaattorin, koska sillä sai aikaan suurieleistä ja tunnelmaan sopivaa jälkeä.
Halloweenin, The Fogin, Vampiresin ja Escape From New Yorkin kaltaisten elokuvien musiikin lisäksi hän tuli synnyttäneeksi muutakin. John Carpenterin soundtrackit ovat vaikuttaneet moniin myöhempiin synthwave-artisteihin, ranskalainen Carpenter Brut jopa nimesi itsensä hänen mukaansa. Ei olekaan ihme, että Carpenter pyydettiin mukaan The Rise Of The Synths (2019) -dokumentin tekoon.
Carpenter on säveltänyt elokuvamusiikkia jo 1970-luvultä lähtien, mutta levyttäväksi ja esiintyväksi muusikoksi hän ryhtyi vasta seitsemänkymppisenä. Ohjaaja-säveltäjä solmi levytyssopimuksen newyorkilaisen Sacred Bone Recordsin kanssa ja teki ensimmäisen studioalbuminsa tuolle David Lynchinkin musiikkia julkaisseelle indiemerkille vuonna 2015. Hanke oli niin menestyksekäs, että helmikuussa 2021 ilmestyi jo kolmas Lost Themes -levytys.
Lost Themes on oivallinen nimi Carpenterin albumisarjalle. Tekipä hän musiikkia elokuviin tai ei, se tuntuu aina soivan kuvattujen kohtausten taustalla (mikä on itse asiassa hyvin yleistä maalailevan instrumentaalimusiikin kohdalla). Lost Themes III – Alive After Deathin kappaleet voisivat hyvin olla tunnussävelmiä elokuvista, joita ei koskaan tehty. Ei ihmetyttäisi, vaikka nämä teemat olisi kaivettu esiin vuosikymmenten takaa ohjaajan arkistoista. Ilmeisesti näin ei kuitenkaan ole. Musiikki on sävelletty kotistudiossa improvisoiden nimenomaan näitä julkaisuja varten.
Kuten kansikuvastakin näkee, Carpenter ei ole laatinut kadonneita teemojaan yksin. Hän tekee musiikkia bändin tai pikemminkin perheen kanssa: mukana ovat Johnin poika Cody Carpenter ja kummipoika Daniel Davies. Nuorempi Carpenter on säveltänyt musiikkia, levyttänyt sooloartistina ja tehnyt erilaisia yhteisprojekteja usein juuri isänsä kanssa. Kitaristi, biisintekijä ja tuottaja Davies (jonka isä on The Kinksin Dave Davies), on aiemmin vaikuttanut rockbändeissä Year Long Disaster, Karma To Burn ja CKY.
Vaikka Lost Themes -sarja ei olekaan kirjaimellisesti sooloprojekti, se perustuu täysin Carpenterin elämäntyöhön ja estetiikkaan. Hänet tunnetaan kauhu-, toiminta- ja scifi-ohjaajana, eivätkä uudet levyt murenna tuota käsitystä. Makuun pääsee jo biisien nimiä lukemalla ('Dripping Blood', 'Dead Eyes', 'Vampire's Touch'). Kuten Carpenterin soundtrackeissäkin, tunnelma on hämärä ja vahva. Melodiat soivat herkkyyttä, kauneutta, yksinäisyyttä ja sivullisuuden kokemusta.
Ohjaajana Carpenter käyttää valoa minimalistisesti ja kuvaa hillitysti, ja sama pätee hänen musiikkiinsa – jokainen duurinpilkahduskin tuntuu valaisevan taivaan. Välillä teemat ovat ambientmaisia ja unenomaisia, välillä kitarat kiskovat niitä kohti rockia. Vaikka musiikki on synteettistä, se ei kuulosta hetkeäkään epäinhimilliseltä.
Lost Themes -sarja ei ole Carpenterilta varsinaisesti mitään uutta. Pikemminkin hän on kääntänyt luomansa mustan valon loistamaan uudesta kulmasta. Mutta kuka ohjaisi elokuvat kadonneisiin teemoihin?
Ari Väntänen | www.arivantanen.com
Lost Themes III • Alive After Death
Cody Carpenter
John Carpenter
Daniel Davies
John Carpenter | Facebook
John Carpenter | Instagram
John Carpenter | Twitter
John Carpenter | IMDb
Esitäytetty Monihaku aluekirjastoihin. Kohdekirjaston voi vaihtaa.
Levyhyllyt
John Carpenter | Finna.fi
[= Cody Carpenter • John Carpenter • Daniel Davies]
Lost Themes | Rodeo Suplex/Sacred Bones Records 2014
Lost Themes Remixed Eri remiksaajia | Sacred Bones Records 2015
Lost Themes II | Rodeo Suplex/Sacred Bones Records 2016
Anthology • Movie Themes 1974–1998 | Sacred Bones Records 2017
Lost Themes III • Alive After Death | Rodeo Suplex/Sacred Bones Records 2021
Levyhyllyt
Karma To Burn | Finna.fi
Karma To Burn | The All Blacks/Roadrunner Records 1997
Wild Wonderful Purgatory | Spitfire Records/Roadrunner Records 1999
Almost Heathen | Spitfire Records 2001 • LP Emetic Records 2009
Appalachian Incantation • 2LP • 2CD | Napalm Records 2010
V | Napalm Records 2011
Arch Stanton | Deepdive/Faba 2014
Thee Rabbit Hole • LP | H42 Records 2021
Levyhyllyt
Year Long Disaster | Finna.fi
[= Daniel Davies • Brad Hargreaves • Rich Mullins • William Mecum]
Year Long Disaster | Volcom Entertainment 2007
Black Magic • All Mysteries Revealed | Volcom Entertainment 2010
John Carpenterin elokuvia ja soundtrackejä | Finna.fi
1970-luku
Pimeä tähti • 1974 | DVD
Dark Star – Original Motion Picture Soundtrack | Citadel Records 1974 • CD Varèse Sarabande 1992 • We Release What The Fuck We Want Records 2016
Hyökkäys poliisiasemalle • 1976 | DVD • Blu-ray
Assault On Precinct 13 – Original Motion Picture Score • LP • CD | Record Makers 2003 • Death Waltz Recording Company 2013
Halloween – naamioiden yö • 1978 | DVD
Halloween – Original Motion Picture Soundtrack • LP | Columbia 1979 • LP & kasetti Varèse Sarabande 1983 • CD Varèse Sarabande 1985 & 1990 & 1998 & 2000 • 2LP Mondo 2013 • LP Death Waltz Recording Company 2018
Elvis • 1979 | DVD
1980-luku
Usva • 1980 | DVD • Blu-ray
The Fog – Original Motion Picture Soundtrack • LP • kasetti • CD | Varèse Sarabande • CD Varèse Sarabande 1989 • CD Silva America/Silva Screen 2000 • 2CD Silva Screen 2012 • 2LP Death Waltz Recording Company 2012 • 2LP Silva Screen 2015 & 2016 • 2LP Waxwork Records 2020
Pako New Yorkista • 1981 | DVD • Blu-ray
Escape From New York – Original Motion Picture Soundtrack | Varèse Sarabande/Milan/Hot Ice Records 1981
Halloween II • 1981
Halloween II – Original Motion Picture Soundtrack John Carpenter & Alan Howarth | LP Varèse Sarabande 1981 • LP Milan/Celine Records/Hot Ice Records 1982 • LP Colosseum 1988 • CD Varèse Sarabande 1990 • CD 30th Anniversary Edition – Expanded Original Motion Picture Soundtrack | Alan Howarth Incorporated 2009 • LP Death Waltz Recording Company 2012 & 2014 & 2018
Halloween III – pahuuden yö • 1982
Halloween III • Season Of The Witch – Original Motion Picture Soundtrack John Carpenter & Alan Howarth |
The Thing – "se" jostakin • 1982 | DVD • Blu-ray
Christine – tappaja-auto • 1983 | DVD
Christine – Original Motion Picture Soundtrack Eri esittäjiä + John Carpenter & Alan Howarth |
Christine – Original Motion Picture Soundtrack Score John Carpenter & Alan Howarth | Varèse Sarabande 1989
Starman – vieras tähtien takaa • 1984
Säpinää Chinatownissa • 1986 | DVD • Blu-ray
Big Trouble In Little China – Original Motion Picture Soundtrack | 1986
Pimeyden valtias • 1987
Prince Of Darkness – Original Motion Picture Soundtrack John Carpenter + De Coup De Villes | Varèse Sarabande 1987
Pahan kehä • 1988 | DVD
They Live – Original Motion Picture Soundtrack John Carpenter & Alan Howarth | Enigma Records 1988
1990-luku
Memoirs Of An Invisible Man – Näkymättömän miehen muistelmat • 1992 | DVD
Body Bags – kolme tietä kauhuun • 1993
Body Bags – John Carpenter Presents John Carpenter & Jim Lang | Varèse Sarabande 1993
In The Mouth Of Madness • 1995
In The Mouth Of Madness – Original Soundtrack Recording • CD | DRG Records 1995
Kirottu kaupunki • 1995
Village Of The Damned – Original Motion Picture Soundtrack John Carpenter & Dave Davies | Varèse Sarabande 1995
Pako L.A.:sta • 1996
Escape From L.A. – Original Score Album From The Motion Picture John Carpenter and Shirley Walker
John Carpenterin vampyyrit • 1998
Vampires – Music From The Motion Picture | Milan 1998
2000–2009
Ghosts Of Mars • 2001
Ghosts Of Mars – Music By John Carpenter John Carpenter ja eri esittäjiä | Varèse Sarabande 2001
2010-luku
The Ward • 2010 | DVD
Classix Nouveaux: Night People – futuristisen uusi aalto
Depeche Mode: Construction Time Again – kun syntikkabändi löysi äänensä
Jean-Michel Jarre: Electronica 1 – The Time Machine
Jean-Michel Jarre: Electronica 2 – The Heart Of Noise
Nine Inch Nails: Pretty Hate Machine – loikka lähitulevaisuuteen
Ruusut: Kevätuhri – inhimillisyyttä ajankuvan alla
Read more about John Carpenter | Finna.fi
John Carpenter – The Prince Of Darkness Gilles Boulenger, 296 pages | Silman-James Press 2003
Read more about horror movies | Finna.fi
Horror Films James Marriott, 298 pages | Virgin Books 2004